Thai Red Curry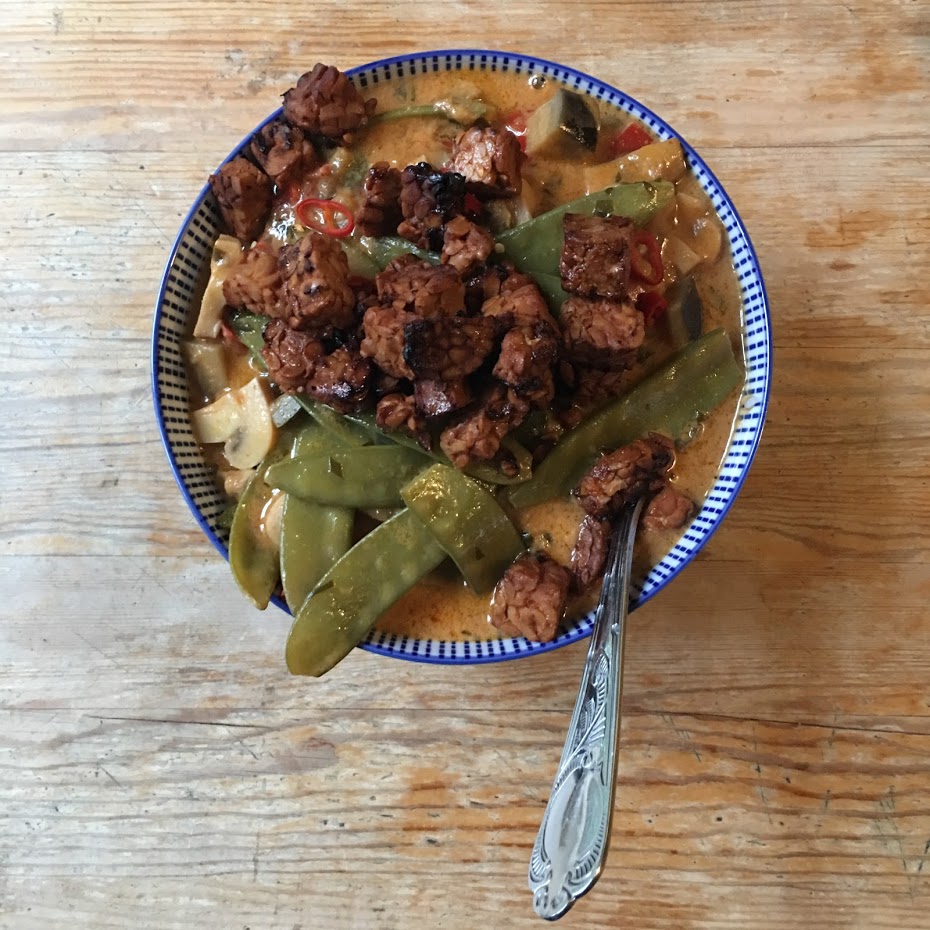 Ingredients
red curry paste
200g tempeh, cubed
sriracha sauce
oil (sunflower)
4-5 tbsp soy sauce
juice 3 limes
2 red chillies, 1 finely chopped, 1 sliced into rounds
2 tbsp vegetable oil
400ml can reduced-fat coconut milk
1 courgette, chopped into chunks
1 small aubergine, chopped into chunks
½ red pepper, deseeded and chopped into chunks
140g mushrooms, halved
140g sugar snap pea
20g pack basil, thai basil, leaves picked
1 tsp brown sugar
jasmine rice, to serve
Preferably an oven with a plate, and a baking sheet. Alternatively a good thick frying pan also works.
Preparation
You could make the red curry paste yourself but I just buy the stuff.
Preheat up the oven to 200 degrees celsius.
Make marinade in a medium sized bowl of 4 tbsp soy sauce, the juice of 1 lime and 3 big squirts of sriracha. Dice the tempeh and mix it in the marinade. If you've got a lot of tempeh, use more sauce. Let it sit for about 10 minutes.
Spread the tempeh out over a big baking sheet and slide it in the oven. Don't use the grill. If you don't have an oven, just bake the tempeh in a pan. Check the tempeh every 5 minutes. It should brown a little bit but definitely should not burn or turn black. You can also test if you like the taste and texture after a while.
Heat half the oil in a large pan. Add 3-4 tbsp paste and fry for 2 mins. Stir in the coconut milk with 100ml water, the courgette, aubergine and pepper and cook for 10 mins until almost tender.
Add the mushrooms, sugar snaps and most of the basil to the curry, then season with the sugar, remaining lime juice and soy sauce. Cook for 4 mins until the mushrooms are tender, then add the tofu and heat through. Scatter with sliced chilli and basil and serve with jasmine rice.
Source: https://www.bbcgoodfood.com/recipes/420641/veggie-thai-red-curry
I adapted the tofu part to be tempeh and do different stuff with it.