Pumpkin mac and cheese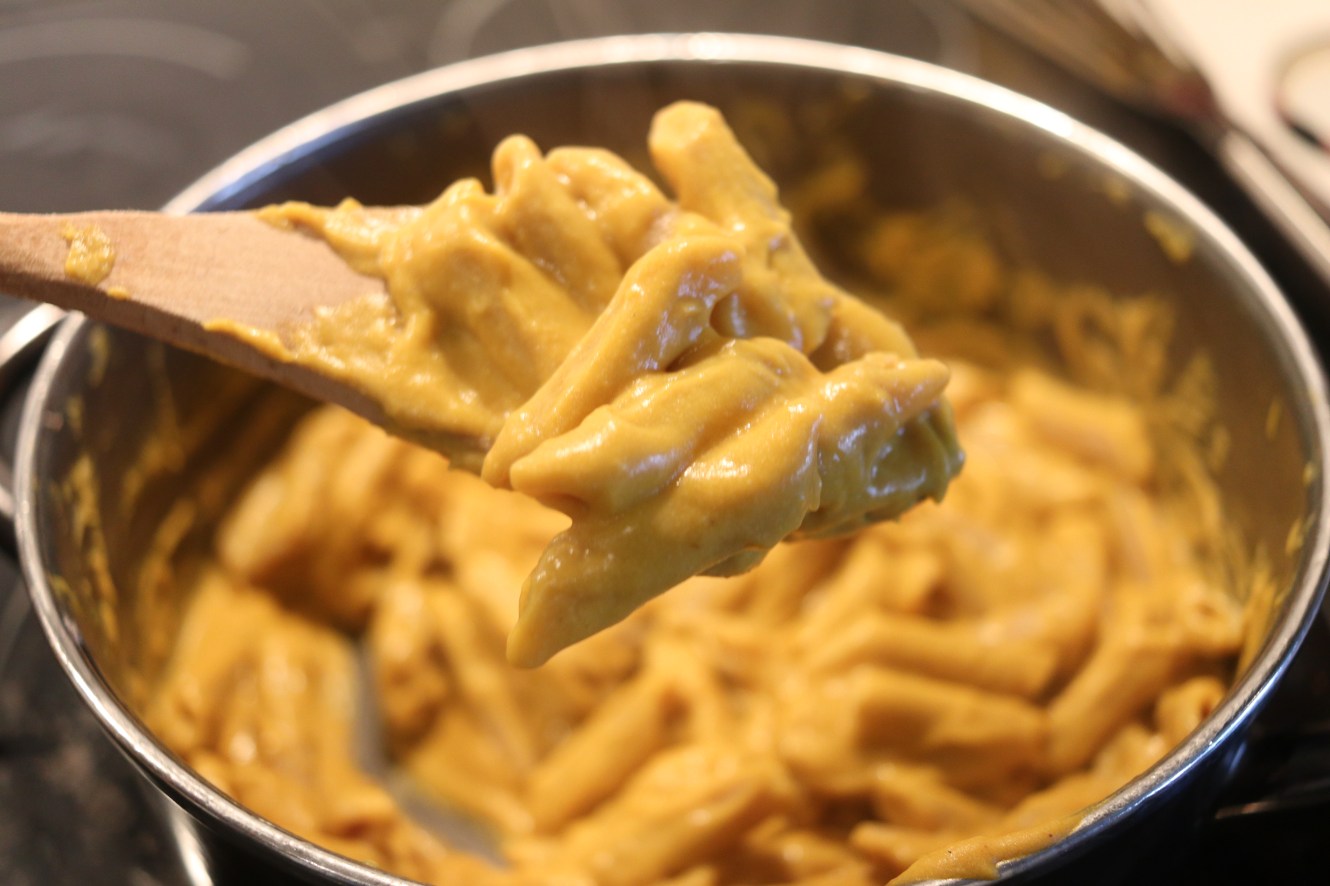 Mac and cheese isn't something that's well known in the Netherlands. So basically think of it as a pasta with a white sauce. This version has a lot of flavor and it's very cheesy for a vegan recipe. Sweet!
Ingredients (2-3 servings)
1 small pumpkin or half a big one
2 cups uncooked macaroni or other pasta
2 tbsp olive oil
2 tbsp flour
1 cup unsweetened plant milk
1⁄4 cup nutritional yeast
1⁄4 tsp paprika
1 tsp garlic powder
1 tsp onion powder
1⁄2 tsp salt
1-2 tsp mustard (optional, but very good)
Whisk, use a wooden/plastic one if your pan can scratch.
Preparation
Cut and steam the pumpkin, with skin if the pumpkin allows for that.
Cook pasta in a pot, according to instructions.
While your pasta is cooking, we'll prepare the sauce, which is a "roux". In a large sauce pan, heat oil on medium-high heat.
If the pumpkin is done, smash it up with a fork, it needs to become a puree.
Add flour and whisk until smooth – this should happen pretty quickly! It will become a paste. Add this bit by bit to make it easier.
Add in the plant milk slowly while continuing to whisk. Whisk until smooth and lumps are gone.
Turn heat down to a medium-low and continue to whisk for about 3-5 minutes until the mixture starts to thicken. Add all the other ingredients.
Continue to stir for another 2-3 minutes until mixture has thickened into a creamy sauce.
Give it a taste and see if you need to add anything else! This is your sauce – flavour it to your liking.
Once pasta is cooked, drain and add back to the same pot. Add sauce and mix until well-combined.
This goes great with my Asian brussels sprouts recipe.
Source: Cheap Lazy Vegan, https://www.thecheaplazyvegan.com/2017/11/15/creamy-pumpkin-mac-cheese-vegan/, I did adapt it though.