Creamy pasta alfredo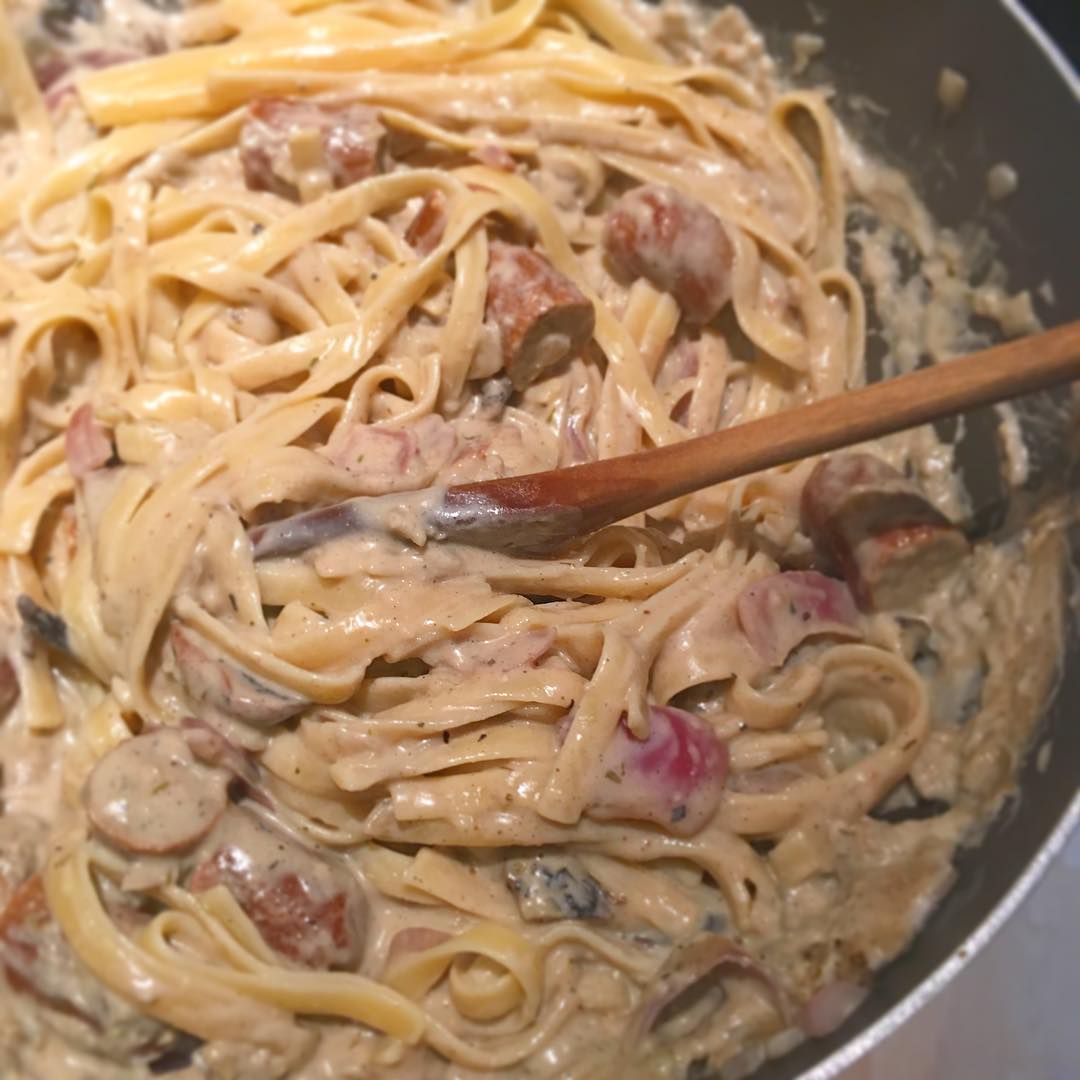 When I went vegan first I didn't know how to make a proper white sauce without cheese. Then I discovered the roux is the secret. Roux is basically blending a fat (butter or oil) with flour. You can use this roux in various ways.
However, there's tons of ways to make a creamy alfredo sauce. I've seen recipes where people blend up tofu or soaked cashews. There's a lot of ways to Rome.
This recipe is actually a mixture of two other recipes I found. See source at the end.
Ingredients
300g pasta
3 tbsp olive oil
4 large cloves garlic, minced
4 tbsp flour
2 cups unsweetened plain almond milk
2 red onions, chopped
2 cups of mushrooms, any kind you like, chopped
1 cup green peas, thawed if they were frozen
salt and pepper
4-6 tbsp nutritional yeast
1⁄2 tsp garlic powder
red pepper flakes
(submersion) blender or kitchen machine
Preparation
Cook the pasta.
In a large baking pan add olive oil and garlic, make sure it doesn't burn.
Add the flour and then a little later add the almond milk, a bit at a time. Cook this for 2 minutes. Whisk the milk into the flower to get a nice consistency.
Transfer the roux to a blender and add salt, pepper, nutritional yeast, garlic powder, and blend on high until creamy and smooth, scraping down sides as needed. Taste and adjust seasonings as needed - you want it to be pretty cheesy and salty so don't be shy.
When the roux is in the blender, clean the pan a bit and put in some oil. Saute the red onions, then add the mushrooms. Lastly add the green peas.
Return sauce back to the pan and cook on medium heat until it bubbles, then reduce heat to low and cook until thickened, stirring frequently.
If sauce is too thick, add a little more milk. If too thin, scoop out some sauce in a 1⁄2 cup measuring cup and whisk in 1-2 tsp more arrowroot or flour. Whisk to combine and add back to sauce. Repeat as needed until desired consistency is reached.
Once sauce is ready, add pasta, and toss. Cook for 1-2 minutes to warm through, and then serve with red pepper flake.
Sources: