Gobi matar: Indian cauliflower and peas curry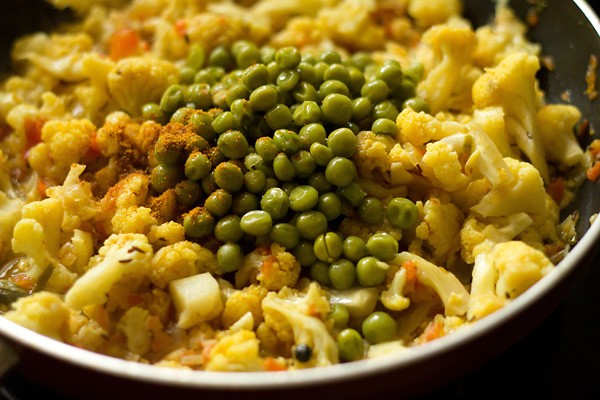 ("Gobi" means cauliflower and "Matar" means peas in Hindi and Urdu.)
I came across this delicious and very affordable Indian curry on YouTube and I've been making it ever since. It's an easy recipe to make too. The only thing that might be hard to get is the asafoetida, and definitely read the storage instructions on that page: "If the aroma escapes you will awake to find a house reeking of yesterday's garlic".
Ingredients
~300 gr green peas (frozen or not)
4 big potatoes (optional)
1 big cauliflower
big thumb of fresh ginger
2 red onions
6 cloves garlic
4 tblsp coconut oil
1tbslp cumin seeds or powder
1 teaspoon asafoetida
1 tblsp salt
1 tblsp coriander powder
1 tblsp turmeric (a.k.a. kurkuma)
1 tbslp red chili powder/flakes (if it's a hot one use a little less at first)
Preparation
Peel the potatoes and chop them into bitesize pieces (1.5 cm). Cut the cauliflower into bitesize pieces, you can also use a big part of the trunk.
Cooking:
Heat the coconut oil over medium heat. Once that is nice and hot, add the cumin seeds or powder and the asafoetida. Then let that fry for 30 seconds, it should NOT start to smoke, a little vapor is ok. Then add the ginger, garlic and onion, mix it up and fry it all.
Then after a minute or two add the other spices: coriander powder, chili powder/flakes, turmeric, salt. Again mix it up and make sure the flavors are mixed, these spices should also release their flavor now, the turmeric should give a yellow color to the whole mix.
After one or two minutes add the vegetables: peas, potatoes, cauliflower and mix everything up. The spices mix should be on all of the vegetables. After stirring thoroughly, cover the pan and let it fry for about 10 minutes. It should be done now but definitely check if the potatoes are done.
Source: Princess Jo on YouTube